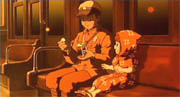 This is obligatory viewing for anyone who thinks that cartoons are only for children. Based on a real story, the movie could easily have been shot as a standard feature with real actors but the animations add an extra dimension and depth to the feelings that seep through the movie in a way that would be impossible to capture on camera. It would be like reading the lyrics to a song without listening to the music.


This is the story of the two Japanese children during the period of the Tokyo US-air raids when the allies were on the counter-offensive and it deals with the hardships they face. But there's so much more than that in the film. It is a testament to the horrors of war, to human insanity, fanaticism, cynicism, compassion, hope, spirituality. The last 20 minutes of the film deliver such an emotional punch that it is nearly impossible to hold back the tears. Once the film is finished, go back and watch the first 5 minutes of the introduction again since it is there that the story essentially concludes.

I highly recommend watching it with English subtitles and the original Japanese dialogue as the performances are simply amazing (especially Ayano Shiraishi as Setsuko). The English voiceovers are not bad but they cannot compare with the original - even if you don't speak Japanese.

The internet movie database rates this film 8.1/10 putting it in the top #200 films of all time. I gave it a 10/10.